Illustrator allows you to create artwork for different types of medium using vector based graphics. Standardized drawing tools, color controls, and type controls help you capture your ideas and experiment freely. Familiar performance and integration with other Adobe applications help you produce graphics for print, web and interactive, and mobile and motion designs. (from the Adobe catalogue)
Starting a new document in Illustrator:
The first option for the new document is the type of document. Illustrator optimizes for a variety of pull-down formats including print, web, mobile, and others. Size, dimentions, unit of measurement, and orientation can also be established at this point.
The main workspace in Illustrator showing the Tool pallete (in double mode), the Tool properties bar at the top, and other palletes including Layers, Gradient, Color, and Symbols. These can be shown, hidden, or docked to provide a custom workspace similar to Photoshop.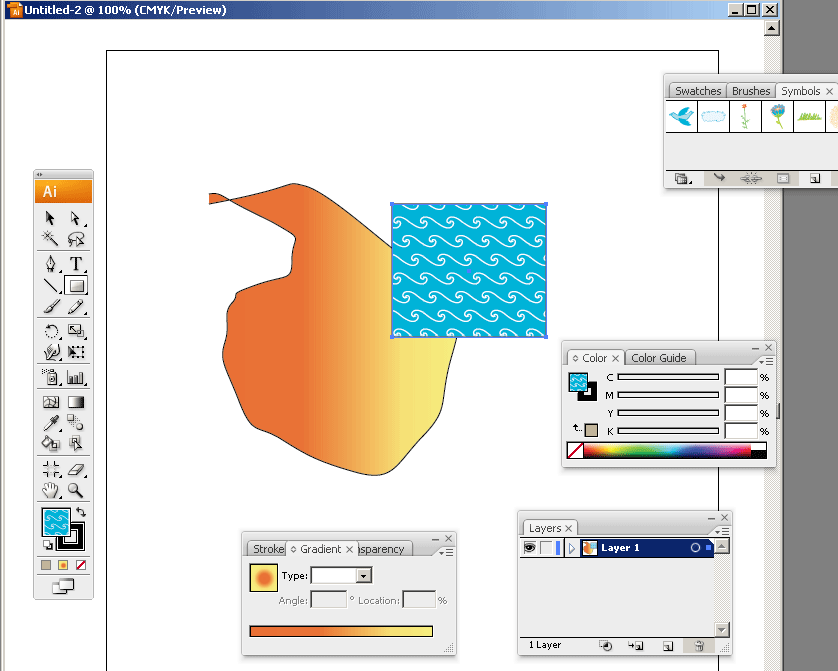 Shapes can be generated using the different options under the Rectangle tool; as well as drawing them as vectors using the pen tool. Colors, gradients and patterns can then be applied within the same layer, or using different layers for organizing related elements.
Text is generated using the type tool and can be modified with all the features of a typical word processor. As a vector based element, the text field can then be modified just as you would transform graphic objects. The big difference however, is that the text can still be edited after the transformation. Illustrator provides it's own set of effects, as well as featuring many of the effects from Photoshop.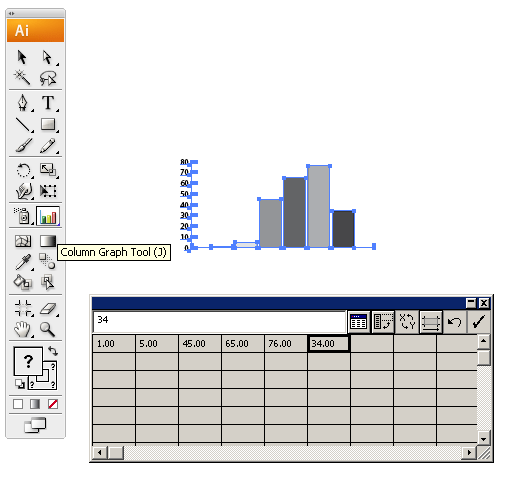 Just as Text can be brought into Illustrator as editable data, so can numerical data that needs to be expressed graphically. The Column Graph Tool allows spreadsheet-like functionality for creating an image based on a set of values and formulas. Like a Text object, this can be edited and updated to dynamically affect changes in the charts and graphs.
Both clip-art and custom graphics can be applied to an Illustrator document using a variety of tools. By bringing in graphics as a Symbol, the visual object can be duplicated like a stamp pad. Each instance, however, will retain individual properties or properties as a group, allowing for transformations and other effects.
---
Reading Assignment:
Illustrator - Online help files & video tutorials