---
---
~^~^~^~^~^~~^~^~^~^~^~^~^~^~^~^~^~^~^~^
FOR CURRENT UPDATES AND TOUR INFORMATION
VISIT THE LOS MICROWAVES FACEBOOK PAGE
https://www.facebook.com/LosMicrowaves

~^~^~^~^~^~~^~^~^~^~^~^~^~^~^~^~^~^~^~^
Los Microwaves had been touring "coast to coast" for 3 years when upon moving to New York City from San Francisco, Interview Magazine's Glenn O'Brien wrote that they were "possibly the greatest rock band ever". After 2 more national tours, an LP on Poshboy records, and 4 cult hit singles, the band played their last show at New York's Danceteria in March 1983.
The main line-up included vocalist-bassist Meg Brazill, vocalist-keyboardist David Javelosa, and drummer-bassist Todd "Rosa" Rosencrans. The fourth member floated between Caroline Canning on percussion for the west coast, and Pilar Limosner on keyboards and fire-dancing for the east coast. The band had played venues in most major cities and college towns in the U.S. and Canada, and performed on tour with such bands as Gang of Four, Bow Wow Wow, Wall of Voodoo, XTC, Oingo Boingo, 999, Romeo Void, and Book of Love, to name a few.
Creating sound and music from the fusion of techno-punk, new wave pop, and electronic music, Los Microwaves featured a quirky audio theater that was best experienced live and from the dance floor. Sporting a combination of early portable synthesizers, bass and processed percussion, the music continues to deliver a unique groove, even by today's electronic methods.
---
Los Microwaves - 25th Reunion Concert

Woodstock Vermont, Aug 5, 2005
---
SOME MP3s CURRENTLY NOT ON-LINE
SEND EMAIL TO ACTIVATE

SAMPLE MP3 TRACKS:
---


From "Life After Breakfast" - Poshboy Records
AND NOW AVAILABLE ON
DARK ENTRIES RECORDS
WITH LIVE DVD!
Time To Get Up
The band's big early morning radio novelty song. Probably sold more singles but was especially fun on stage. Meg on synth.

What's That Got To Do With Loving You
Another anthem from dance land. Always filled the floor and was fun to play too!
Coast To Coast
The B side to Radio Heart 7". Kind of an art tune with an annoying style that fit the mood of the time
Forever
Another re-recording of the original single, with a cleaner sound, extended mix and released on the Life After Breakfast LP.
---
The Singles:
---


Silent Screamers
b/w
I Can't Say
This was the fourth single, based on a performance piece by Meg. Non-LP! The other side was re-recorded as a DM version.
(AIM Records)

.


Time To Get Up
b/w
TV In My Eye
(Poshboy Records)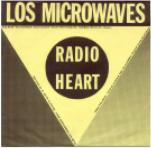 .


Radio Heart
b/w
Coast To Coast
(Soundchaser Music)